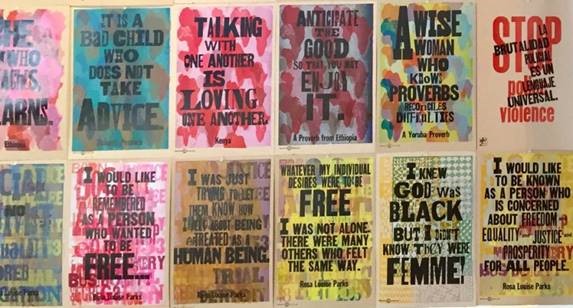 Just a reminder that Amos Paul Kennedy, Jr. will be visiting as BookLab's Petrou Artist in Residence this week.
You can drop in to BookLab (Tawes 3248) any time Wednesday, 11- 5 pm to meet him, hang out, watch him work, and–of course–print under his direction! No experience and no particular time commitment is necessary.
On Thursday, at 3:30 in Ulrich Recital Hall (Tawes Hall) he will deliver an artist's talk entitled "The Gospel of Bad Printing."
On Friday, festivities will shift down the street to our neighbors at Pyramid Atlantic, where Mr. Kennedy will open an exhibition of his work, 6:30 – 9:00pm.
Here is his biography:
Amos Paul Kennedy, Jr is a descendant of the enslaved peoples of the United States of America . After 40 years of age, Kennedy embraced his humanity and abandoned the commercial dream that defines this civilization. Unsatisfied with the illusion of a comfortable, middle-class life, Amos traded in his computer for a printing press and his white collar for overalls. The subject of the Brown Finch Films documentary "Proceed and Be Bold", his letterpress work raises emotionally charged questions about race, individuality, and the false narrative of this civilization.
The aforementioned documentary is available here:
Please join us for what promises to be a special and unique event, and also to help showcase (in return) all of the amazing people and work here at Maryland. And please forward this announcement to others near and wide–all events are free and open to the public.
Best, Matt
Matthew Kirschenbaum
Professor of English and Digital Studies
Director, Graduate Certificate in Digital Studies
Printer's Devil, BookLab
University of Marylandmgk@umd.edu