Thursday March 28, 2019 11:00 AM

The WASHINGTON RARE BOOK GROUP
invites you to join us for a special tour with: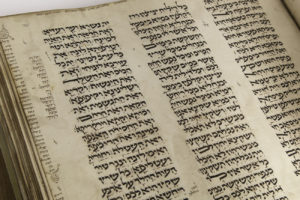 Herschel A Hepler,
Associate Curator of Hebrew Manuscripts,
Museum of the Bible
March 28th at 11 AM
 RSVP by MARCH 15! SPACE IS LIMITED
Herschel A. Hepler has graciously invited a small group of WRBG members for a behind-the-scenes tour at one of Washington, DC's newest and most talked about museums. Our small group will be led through the Museum of the Bible's collections area to see a few selected manuscripts not currently on view to the public. We'll then head out to the exhibit areas to conclude the tour at Codex Valmadonna. The tour will conclude with lunch at the museum's Manna restaurant for those who wish to join.
Herschel A. Hepler has been Associate Curator of Hebrew Manuscripts at Museum of the Bible since 2016. He cares for and researches the Hebrew manuscripts in the Museum Collections and oversees several research projects related to medieval Jewish history and manuscript production. Hepler is especially interested in Hebrew codicology, paleography and Cairo Genizah research. He assisted in the research of a Dead Sea Scroll fragment and co-authored its publication in Dead Sea Scrolls Fragments in the Museum Collection (Brill, 2016), and he continues to support ongoing provenance research of Museum of the Bible artifacts.
Hepler received a B.A. (2011) and M.A. (2013) in theology/biblical studies from Southern Nazarene University, and, most recently, has completed specialized programs such as A Short Course of Hebrew Codicology and Paleography at the Ambrosiana Biblioteca (2015) and manuSciences '17 (2017).
Space is very limited! Please RSVP below by March 15th. 
The tour will meet at the side entrance of the Museum of the Bible.
The Museum of the Bible is located at 400 4th St SW, Washington, DC 20024, near the Federal Center SW Metro Stop. It is a short, one-block walk west to the entrance of the museum. Please bring photo ID and minimal bags.
We look forward to seeing you there!
If you have not yet renewed your membership for 2019, or would like to donate to the RBS scholarship fund, click here!
RSVPs are closed